Bushes
4×4 GVM, GCM, Suspension, Upgrades and Replacements
In a 4WD, car, truck or trailer suspension, bushes (also known as bushings) are components that are used to isolate and reduce vibration between two parts of the suspension system.
Specifically, bushes are cylindrical or spherical components made of rubber or polyurethane that fit between a bolt or pin and a bracket or housing in the suspension system. They act as a cushion or buffer, absorbing shock and reducing noise and vibration as the vehicle travels over uneven terrain.
Bushes are used in various parts of the suspension system, including the control arms, sway bars, shock absorbers, and differential mounts. They play a critical role in maintaining stability and handling, ensuring that the suspension components operate smoothly and efficiently. Over time, bushes may wear out or degrade, which can lead to poor ride quality, noise, and handling issues. It is important to inspect and replace worn bushes as needed to maintain the safety and performance of the vehicle. Book and appointment with Wodonga Springs today.
EFS Polyurethane Bushes are made from high quality elastomers which gives the EFS Polyurethane Bush a high isolating strength & durable.
EFS poly bushes have an elastomer rating of 80 Duro to give improved suppleness & grease channels for increased distribution of lubrication.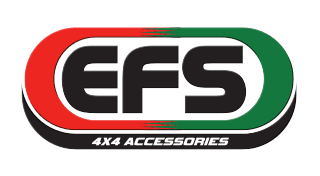 You don't need to understand spring tension, compression rates, recoil dampening or any complex engineering terms. Wodonga Spring Works have you covered.
With our extensive range of high-quality components, competitive pricing, and exceptional customer service, we are your go-to source for all your 4x4 needs in the Albury Wodonga area. Contact us today to learn more about our products and services, or visit our store to see our range of 4x4 components.